Female Figure
I have a passion for figurative work, not only for its sculptural value but also the deeper psychological sensations that come from interacting with the human figure.
I am deeply fascinated by the fact that even the slightest change of position can have such an effect on the feel of a pose. As well as the obvious ones there are yet much deeper sensations that happen on a subconscious level, it is these that I try to tap into when working on figurative art.

This passion has come from my years of study where I have built quite a collection of books and a substantial collection of theories and ideas that will be a focus for future work.

The female figure was the first ever attempt at figurative sculpture, in took over a year and went through many transformations, the finished piece is a plaster model which will be used for a future stone carving.
The Iron Man
The iron man is a cast iron piece which I made at the Scottish Sculpture Workshops in Lumsden, Aberdeenshire, (www.ssw.org.uk )
It was a little ambitious for my first introduction to metal casting and I was a little out of my depth but Eden Jolly (head technician and friend) came to the rescue and worked above and beyond the call of duty to get it finished for my degree show in 2008.

I love the symbolism of figurative art, whether it is primitive or abstract in form, realistic or exaggerated. I hope to develop a more expressive style in the future, something that captures more psychological sensations, or emotion.
Start Stone
In 2011 I did a stone carving workshop at the Strathmore Arts Festival (stART) this involved people carving circles onto the surface of a large standing stone, this idea
was inspired by the earliest form of stone carving, called cup and ring carving. The term 'Cup and ring carving' describes a
range of rock carved symbols (petroglyphs) that are found mainly in northern England and Scotland. In Britain the
carvings are estimated to be around 4000 - 5000 years old which dates them to the Neolithic and Bronze ages.

Generally the carvings occur as circular hollows, 'cupmarks', cut into rock surfaces. These can occur singly or in groups; a cupmark surrounded by a circular channel occurs with single or multiple rings. There are more complex designs involving cups and rings, with grooved channels linking or enclosing
parts of the design which was used when carving the stART stone.

Currently the purpose and meaning of the symbols remains unclear. Many of the rock carvings are sited near, or incorporated into, cairns and burial mounds, thereby linking the symbols in some way with burial practices and beliefs concerning ancestors and an afterlife. The symbols are also found carved on standing stones and at stone
circles, places thought to have been used for religious and ritual purposes in the past. Carvings often occur on outcrop rock where the site appears to have been specifically chosen so as to give uninterrupted views over the surrounding country.
Totem Pole
Standing over 18ft tall and weighing almost 2 tonnes this totem pole was part of a commission by the woodland trust was for 5 sculptures to be sighted at the Formonthills woodland, which is situated at the north side of Glenrothes; these were to provide focal points throughout the woodland and to encourage public interest in this new community woodland.

The woodland trust wanted current animals of the woodland to be depicted on the pole, so from the bottom we have; an earthworm, a mouse, hedgehog, rabbit, red squirrel, a red robin, a pipistrelle bat and finally a buzzard at the top! I did want to give them a Pictish style but that was maybe a bit ambitious, so I opted for just basic forms, everything had to be squashed and fattened up to keep the thickness of the log, it has to last at least 10 years.

This was my first attempt at wood carving and it was a massive learning curve, I was confident I could achieve this but didn't realise how hard it would be! I love to be ambitious but didn't realise how big the tree was until it was erected, it looked a lot smaller lying on its side! Even then I wondered if I would manage 1 or 2 animals a day, best I ever did was probably 4 days for 1 animal, the buzzard at the top must have taken about 10 days and these days were sun up till sun down days, sometimes in blizzard conditions! But it was running over due and needed to be carved and I could only manage Thursdays and weekends as I worked the rest of the time, luckily 14 years working in farming meant I was built for working outdoors.

Just by sheer coincidence the totem pole is almost exactly South facing, this means it looks not only over Glenrothes but Kirkcaldy in the distance and Edinburgh over the water!
ANNIVERSARY stone
This stone was commissioned by a couple to celebrate an anniversary. the wolf design was because of their love of wolves.

The 2 entwined beasts design was taken from a standing stone from St Peter's Church (Invergowrie) and was a symbol of their love.
standing stone circle
The original commission by the woodland trust was for 5 sculptures to be sighted at the Formonthills woodland, which is situated at the north side of Glenrothes; these were to provide focal points throughout the woodland and to encourage public interest in this new community woodland. I managed to submit 5 ideas and 2 were accepted; a standing stone circle, and a totem pole! I don't know where I got the idea for a totem pole but when it comes to producing art for the land, more primitive ideas seem to come to mind. I specialised in figurative sculpture at college, but ever since I graduated in 2008, my work has become more primitive. I usually look at where sculptures are too sighted to get my ideas, when producing art for the land, stone and wood are an obvious fit!

The stone circle was designed to be a place of contemplation as well as a focal point, it consists of eight standing stones encircling a round an oak bench in the centre. It has been sited just off the main path on the edge of a young woodland, so that visitors can sit in peace and quiet as they view over the open woodland. Each of the stones has several hand carved Pictish style animals, most of these designs came from the local high school, here they were given some Pictish style drawings which they then had to decorate in a Pictish or a more modern style. I introduced them to a form of art known as zentangles (this is a therapeutic form of doodling where patterns form from random feelings and thoughts) the winning designs were then transferred onto the stones where the pupils then hand carved onto the surface. The four biggest stones are set at North East South and West with four smaller stones set in between, the North stone is the only one marked with the symbol of the North Star. The animals chosen our mix of local wildlife including insects and animals that used to live in the UK e.g. bears and wolves etc.
Alyth AWARD STONE
In 2012 I won a commission to produce an award for the Alyth
Community Council. Its design was inspired by the landscape, culture and community of Alyth, the original brief for the commission was that it should reflect the Alyth community.

The history and culture of Alyth is incased in stone, from the architecture of the town to the land that surrounds it. My proposal for the award, is to produce a small standing stone, there are at least 9 standing stones in the immediate area of Alyth and many more scattered all over the east of Scotland, I spent 12years working on the land, 6years studying art and 4years working in the community, this concept brings all three of these experiences together.

I originally submitted many designs and concepts but the community council loved the idea based on the actual Alyth standing stone, sighted in the entrance of the parish church, this is a broken fragment which I took and imagined what it would like whole. The community council loved this idea, so I made a scaled clay model before going ahead with the winning concept.

Secondary to this design was a pictish symbol that would reflect the history of Alyth, which turned out to be that Alyth used to be a drovers toon, so an ancient pictish bull symbol was carved into the front of the stone. Each year a new pictish symbol will be carved onto the surface, to symbolise the winning group.
portraiture
If you are interested in a commission, please feel free to contact me
with any ideas or questions.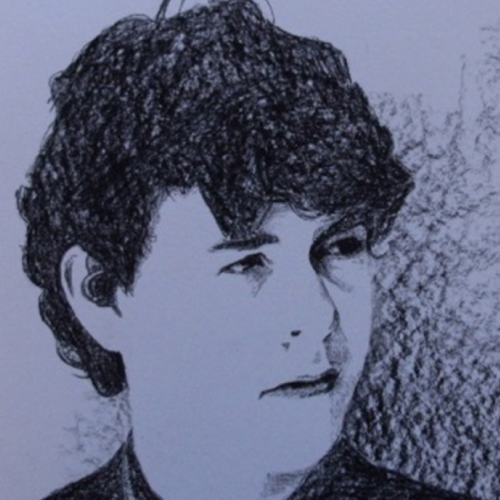 Technically speaking, when it comes to portraiture and given enough time, I can pretty much get an exact likeness. I can work from life or from photographs. When working from photographs it is essential that they have good light and shadow and an interesting pose, sometimes the best photographs are
when the person is not aware they are being photographed, purely focused on the moment, their faces full of emotion.

The areas I am interested in are; structure, perspective and psychology. I am currently experimenting with texture and more expressive mark making, to give
more emotion and life to my work.